A Unified Ecosystem Of Psych Tech
At Inkblot Analytics, we're developing innovative tools to help leverage psychographics during every step of the marketing process. Whether you're focusing on learning consumer insights, building your brand image, or developing engaging content our "psych tech" platforms have a solution for you.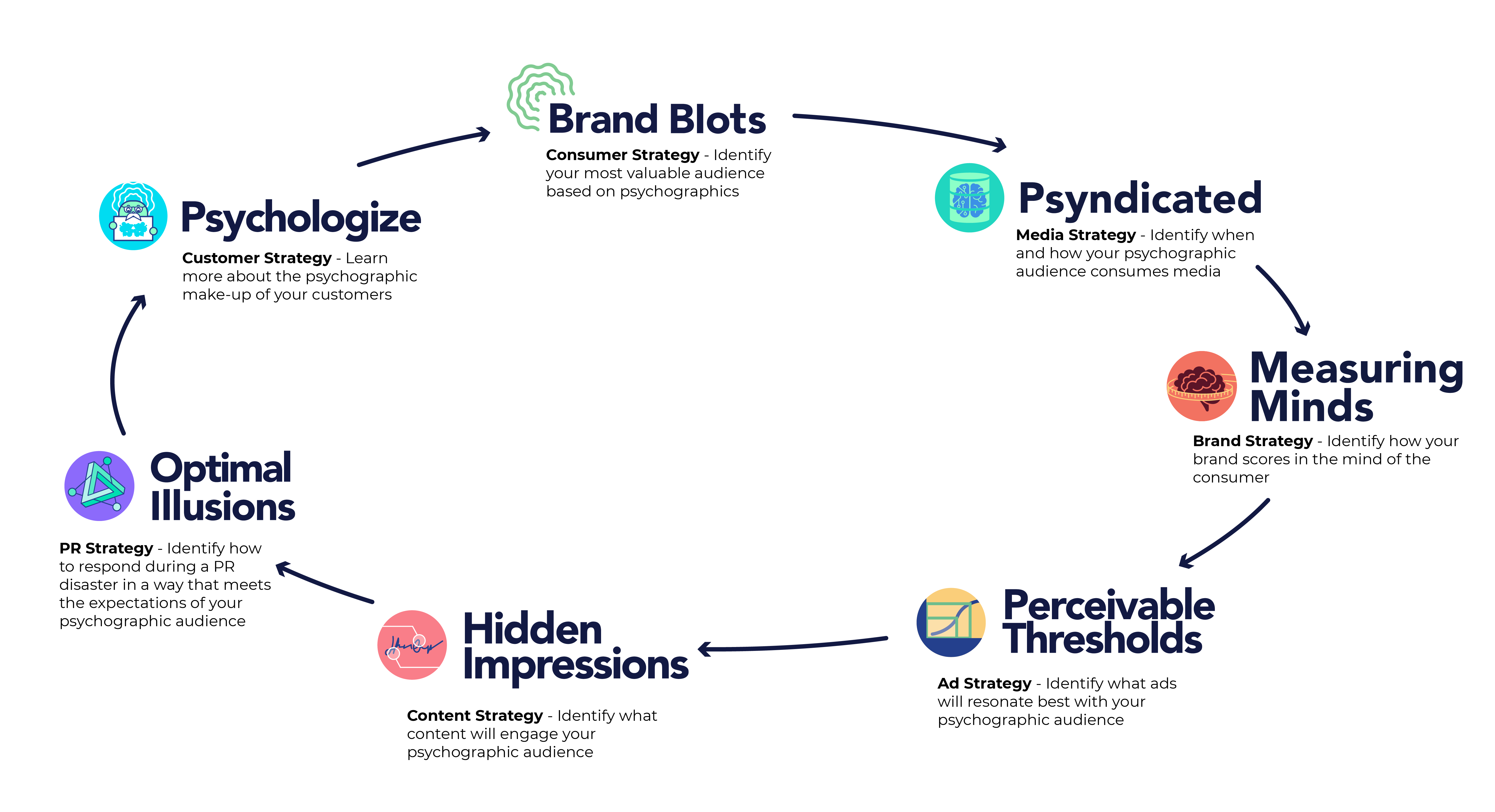 PLATFORM SUMMARY
Want A Quick Overview Of Each "Psych Tech" Platform?
What is Brand Blots?
Brand Blots is a new patent-pending platform for AI-powered projective tests, like the famous inkblot test. With its proprietary AI modules, Brand Blots can predict attitudinal and behavioral aspects about a respondent with great accuracy. The core benefit for you? Ask fewer questions while gaining more insights about your audience.
What is Psyndicated?
Psyndicated is a new platform for syndicated data based on the psychographic properties of your audience. Using this tool you can build your own psychographic audience (or import it from our Brand Blots platform), size the audience, and look at their media behaviors. The core benefit for you? Get smart about how to reach your audience by appealing to the media channels and content they like.
What is Measuring Minds?
Measuring Minds is a new patent-pending platform for brand metric development and deployment. With its proprietary AI modules, Measuring Minds can take those custome measurement important to you (e.g., Brand Love) and predict important consumption outcomes (e.g., purchase intent). The core benefit? Develop and deploy custom brand measurements for any company.
What is Perceivable Thresholds?
Perceivable Thresholds is our proprietary platform for creative optimizations. By using our AI, you can identify what improvements can be made to make your ads unique from other brands while remaining interesting to your target consumers.
Additionally, by telling us their reactions to these ads, consumers tell us something about their own personalities. We use this to help our clients use the right ads for the right psychographic targets.
What is Hidden Impressions?
Our proprietary browser-based extension allows consumers to continually report on what they find to be interesting as they browse the web throughout their day.

By looking at this data every day, week, and month, we extract new and upcoming trends and alert you about them before they become mainstream.

Our clients then use this data to create content that is interesting and appealing to their psychographic targets.
What is Optimal Illusions?
Optimal Illusions is our proprietary platform for managing your brand perceptions. By using our AI, you can simulate your brand's response to different PR scenarios and see the predicted response of consumers.
This technology is critical for the modern brand who is constantly at risk of the next "consumer buycott." Take the guessing out of your PR strategy, and use our tool to help identify the optimal course of action.
What is Psychologize?
Psychologize is our proprietary API that houses the psychological data we collect across all of our applications and technology.
This repository of psychological data supports our patent-pending algorithms that are used to enhance your customer and business data.
Interested in seeing how you can psychologize your customer data? Contact us below!
CONTACT US
Want A Demo of One of Our Platforms?